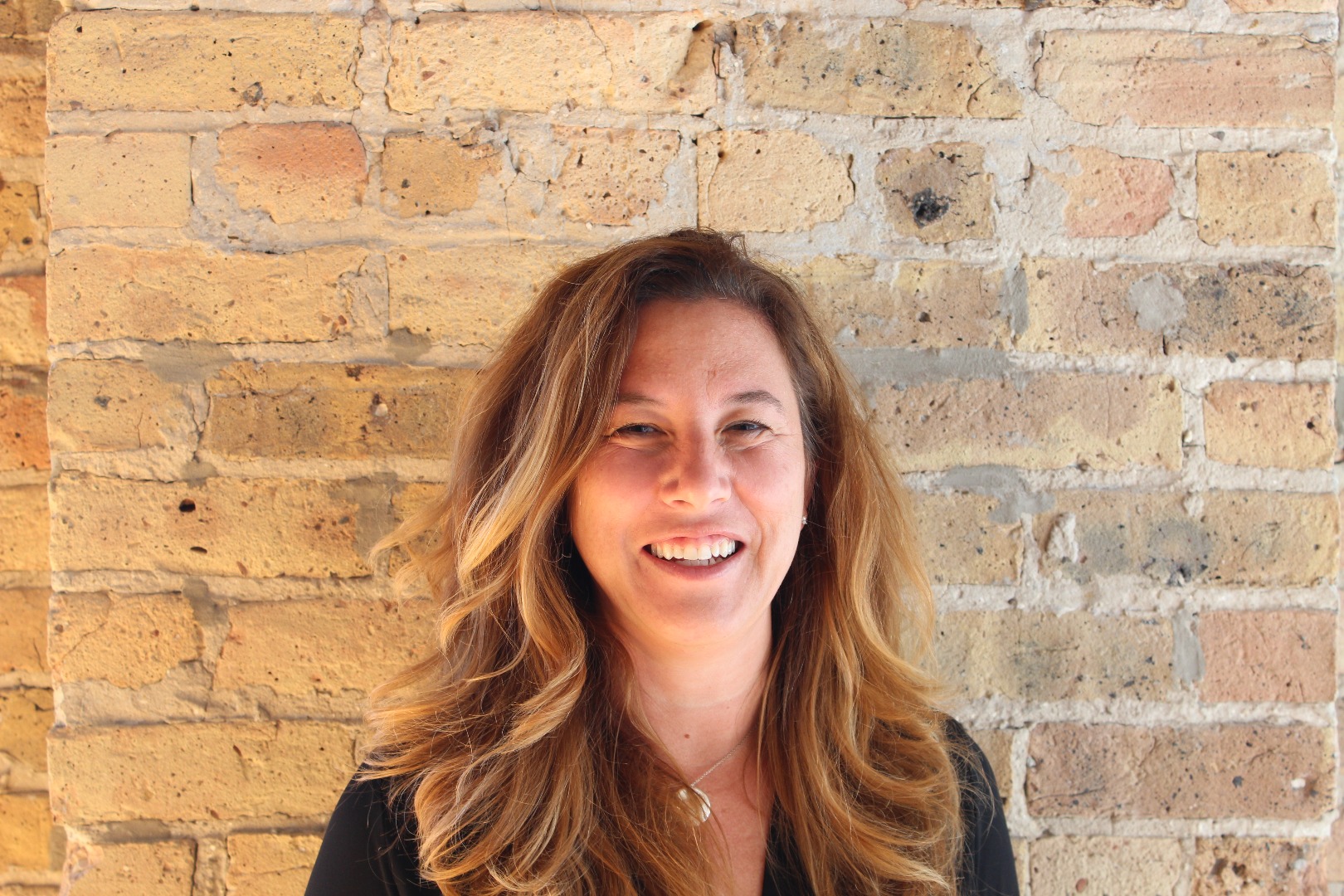 There's never been a more exciting time to design libraries. Driven by digital technology, changing demographics, consumer lifestyles and similar influences, libraries—much like corporate, education, hospitality and healthcare facilities—have changed quite a bit in recent years. Tiffany Nash, founder of Product Architecture + Design, a Chicago firm that specializes in libraries, talks about the changing nature of library design.

How did your firm become a specialist in library design?
The first major library project my partner and I worked on was the Champaign (Illinois) Public Library about ten years ago. We recognized the potential in this category and started seeking more opportunities. We worked initially on a series of small jobs, mostly making recommendations about furniture for aesthetics and comfort. The projects slowly got bigger and bigger and now we're doing 100 percent public library work. Most of the work that we do is interior renovation as libraries focus on making design upgrades and enhancements within the existing shell and square footage.

Are fewer people going to public libraries?
Libraries aren't seeing a reduction in the number of people coming through the door. It is true that there are fewer books on shelves but that's because public libraries are less concerned about offering a depth of collection and more about providing the most popular books that people want to read. Square footage that used to be devoted to books is now used to create a variety of unique spaces.

What are some of the new types of spaces you're seeing in public libraries?
Spaces are much more open, collaborative, and specialized for either specific uses or age groups. In the children's section, for example, there are custom spaces for preschoolers, early readers, grade school age and so on. Teens get their own spaces as well, but those typically are within a closed room because this age group tends to be noisier and more sociable. We're seeing more meeting and study rooms for adults. We're also creating living room spaces near magazines, newspapers, and sometimes large print publications to provide a welcoming space for senior citizens.
Many libraries are adding makerspaces, where people of all ages can create, invent, and learn. Makerspaces may include everything from digital components such as electronics, media labs, or a sound booth, to quilting and sewing tables. Some public libraries have added a café and almost all now have vending machines with seating. We're also seeing the addition of training labs and classroom spaces. In many ways, public libraries take their cues from what's happening in the corporate and education markets.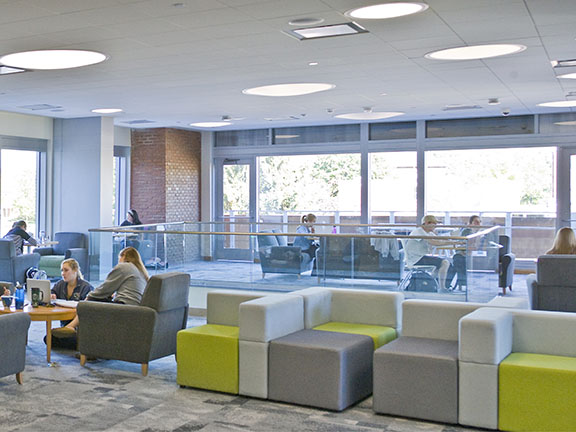 What is the role of furniture in these new spaces?
Properly developing these new spaces almost always requires new types of furniture, floors and walls. So, the right furniture plays an essential role in the design. Generally, we prefer lighter scale furniture from an aesthetic standpoint and because it's easier to move.
Modular, durable seating is important across the board, especially for youth areas. In makerspaces and rooms for adults, stackable seating is required as well as flexible tables and seating that can be moved easily to accommodate different activities. For furniture in any of these spaces, power integration is a necessity. People want easy access to power, and including outlets directly in the furniture is an ideal solution. Keeping access to power as close as possible to the user also eliminates risks associated with power cords running across the floor or under desks and creates a cleaner look.
Library seating needs to accommodate people of all shapes, sizes and ages. We're specifying more booths because we know that adults like them and because they work well in many settings. For example, single-person booths are replacing study carrels because they support open, collaborative design. We recently designed a business center within a public library that features desks in a pinwheel configuration for individual seating and back-to-back booths placed next to windows where people can sit casually in small groups. Booths also work well in café and vending areas.

How would you sum up what's happening with today's public library?
Public libraries continue to play a vital role in their communities. As the public library has evolved to offer new specialized spaces and uses, it's turned into a community center that serves as an important "third place" for visitors. The bottom line is that there's much more going on than ever before in today's public library building.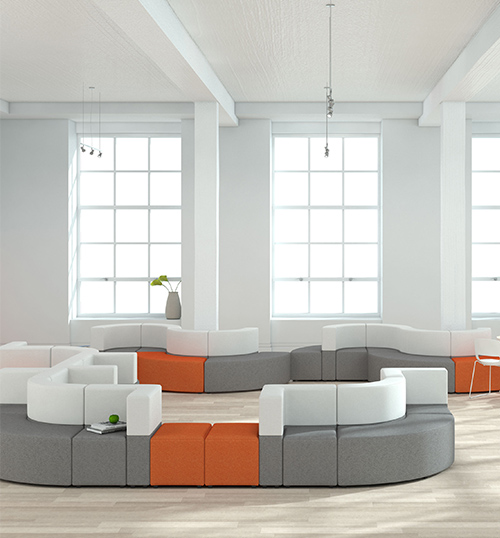 MOSS |3