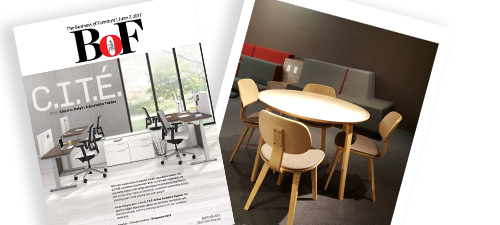 A handful of furniture makers have cashed in on the legacy of past products, trotting out the names of important designers who have created furniture for them in decades gone by, regardless of whether they continue to honor that history today.
Thonet is a brand that has avoided this revisionist history, despite its legacy being able to stand up to any in the industry. Arguably, Thonet's history is the most important in terms of innovation and design. The company's designers included Otto Wagner (Postparkassen Stool), Marcel Breuer (Wassily chair), Mies Van der Rohe (double cantilever chair), Le Corbusier (haise lounge) and Bruno Weil (1294 chair and Model 1177).
The history of Thonet's innovation began more than 170 years ago when Michael Thonet registered a patent for bending solid wood. This simple act set in motion a series of design, material and process innovations that inspired many of the designers who became icons of the Modern age.
For NeoCon, Thonet is returning to its roots and introducing the Legacy Collection. But instead of simply retreading classic products, the brand is making classic designs new again through the use of the latest materials and furniture construction methods. Inspired by Bruno Weil's bent plywood collection for Thonet in 1945, the Legacy Collection uses the same bent plywood manufacturing methods of that era.
Designed to facilitate multipurpose, collaborative space in corporate, education, hospitality and health care environments, the Legacy Collection includes chairs, barstools, personal desks, dining tables and community tables at various heights. It is a modern twist on midcentury modern design.